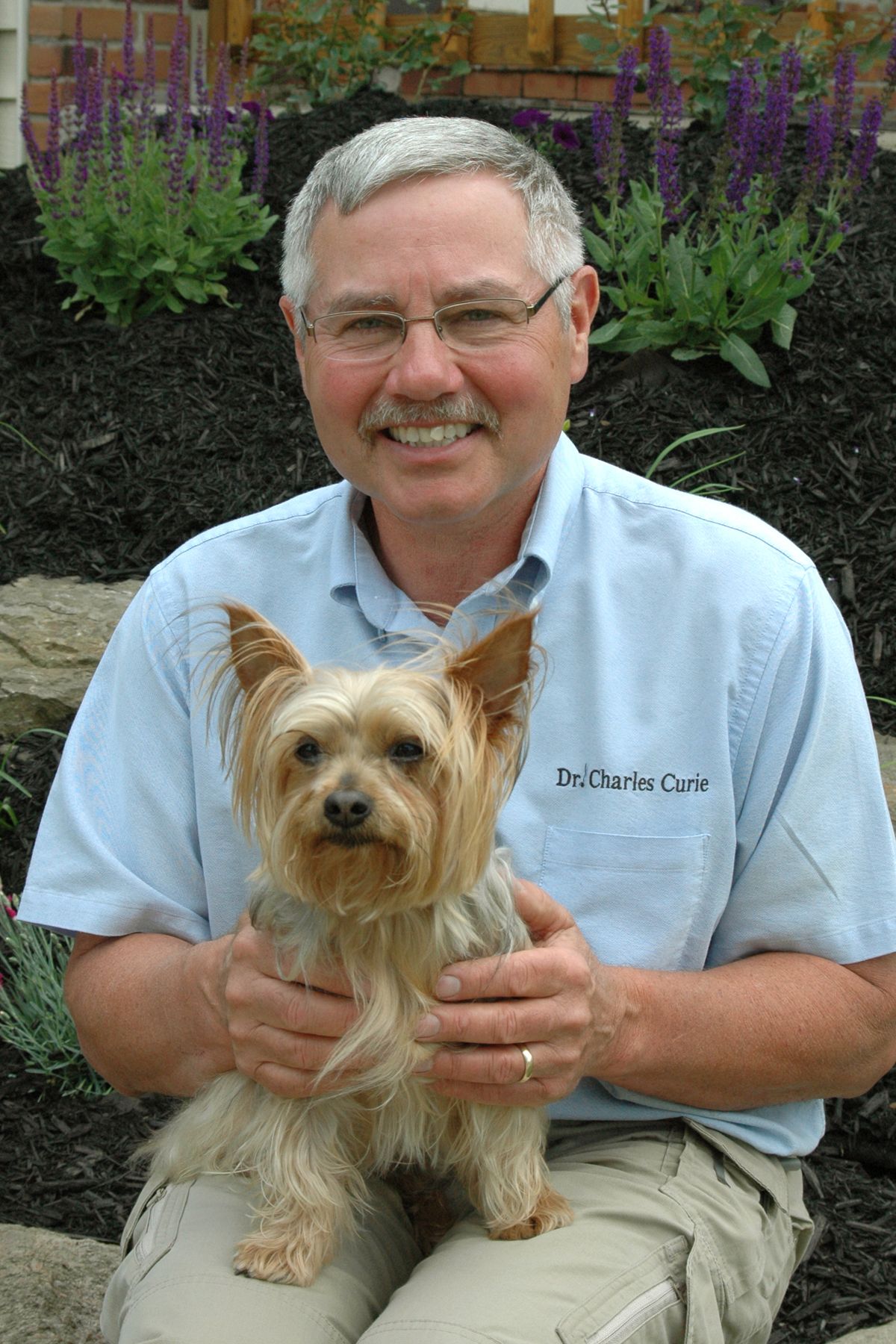 Dr. Charles Curie, Owner
I am an Ashtabula County native. My family has been here since the 1800's. They came here to farm and raise their families in the beautiful wooded North Country of Ohio. After graduating from The Ohio State University, College of Veterinary Medicine in 1978 I decided that my ancestors had the right idea and I too returned home to raise a family and practice veterinary medicine.
The faculty at OSU bestowed upon me the great honor of being the most outstanding large animal veterinarian in the class of '78. I practiced large animal medicine and surgery almost exclusively for the next 20 years. I had built the Country Doctor Veterinary Clinic in 1983 and my associate veterinarians attended to small animals for many years while I stayed focused on the areas dairy and horse farms.
In 1996 a horse that I was working on attacked me and severely injured my neck. I was forced out of large animal practice and transitioned into small animal medicine and practice management. I love this every bit as much as my large animal days.
Over the years our clinic has evolved from a premier large animal practice into a premier small animal practice which has been nationally recognized for excellence in patient care and practice management.
I truly believe that our incredible staff deserves most of the credit for our success. I have had many amazing people work with me over the years and this has been the greatest pleasure of my long career. If you think about it; a veterinary clinic is just brick, mortar, medicine and equipment. It is the people that set it apart and I have been blessed with the greatest staff on the planet!!
The clients have been wonderful as well. We have over 13,000 clients in our data base and I can truly say that it has been a pleasure to know and work with so many people who are dedicated to their animals. We are really in the people business……..the animals don't bring themselves to the Vet! Thankfully through the people we get to meet and help so many wonderful animals.
"Doc"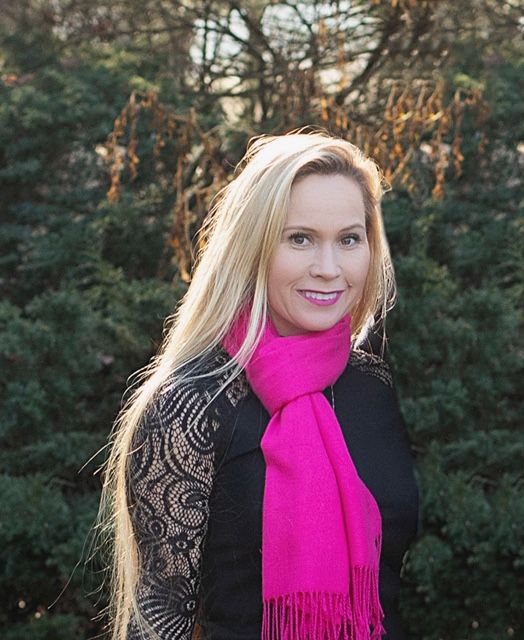 Dr. Emily Miller
As an Ashtabula County native I am proud to be part of the Country Doctor Veterinary team. I am a summa cum laude 1996 Geneva High School, summa cum laude 2000 Lake Erie College and 2004 graduate of The Ohio State University College of Veterinary Medicine. I have a variety of interests within veterinary medicine. I join our practice with a unique background of fifteen very successful years in equine veterinary medicine. I excelled and focused on sport horse medicine, reproduction, neonatal care and geriatrics. My favorite companion animal areas of interest are preventative wellness care, dermatology, musculoskeletal disease and the human animal bond. I am enthusiastically committed to educating owners to provide knowledge that will enhance the quality of care to our animal companions.

Currently I reside in Jefferson with my husband and two amazing sons. Raising my family with strong Christian morals, confidence, and dedicated work ethic is a priority. As a child I grew up in Austinburg on my family's horse farm with many animals to love and tend to. My siblings and I energetically cared for the horses, dogs, cats, goats, rabbits and chickens. My twin sister Rachel and I, along with the help of our youngest brother Jacob, own Miller Quarter Horses, a family partnership dedicated to breeding, raising and showing world class American Quarter Horses. I enjoy living near Lake Erie and try to find time for water skiing, kayaking and snow skiing.

I am dedicated to providing the highest level of care for your animals and making your visit to the Geneva Veterinary Clinic informative, productive and peaceful for you and your furry companions.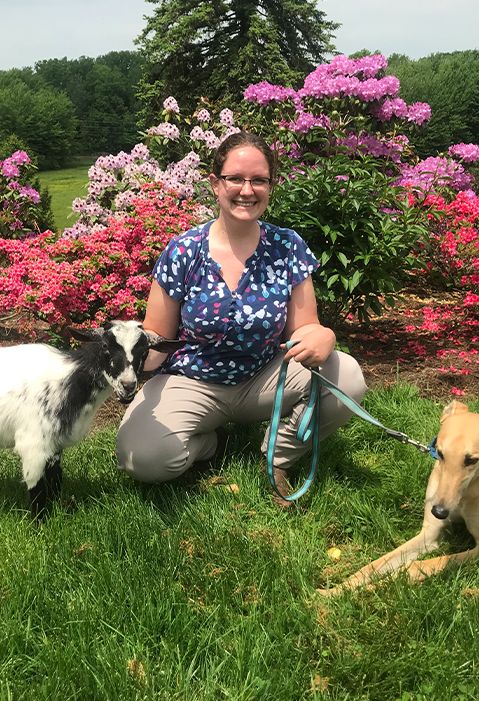 Dr. Melanie Richards
My name is Dr. Melanie Richards. I am an Ashtabula native who graduated from Edgewood High School. During high school, I started shadowing at Country Doctor as part of the Ashtabula Education Service Center Mentorship Experience. I guess they liked me here, because they kept me around. I worked as an assistant through undergrad and veterinary school. In between I earned my bachelor's degree in Biology and Chemistry form Lake Erie College. I was also president of IDA (our dressage riding team) and a tutor for Organic Chemistry. After graduating from The Ohio State University 8 long years later, I came back to work here as an associate veterinarian. I am fortunate to work in all four of our fantastic clinics with all of our amazing team members.
My passion for veterinary medicine comes from the opportunity to serve the human animal bond. I love seeing patients through all their life stages from the first puppy visit through their golden years. I have a particular interest in surgery, nutrition, internal medicine, cardiology, and neurology. But my favorite appointments are still new puppy and kitten visits.
Outside of work, I'm kept busy running my small hobby farm milking (and spoiling) my small herd of ADGA lamanchas and Nigerian dwarf goats. I also have two senior horses, Bud and Diana, who have been with me since I was in 4-H. I am an active volunteer with Ashtabula County 4-H and Greyhound Adoption of Ohio. I also enjoy hiking and running with my greyhound, Arthur.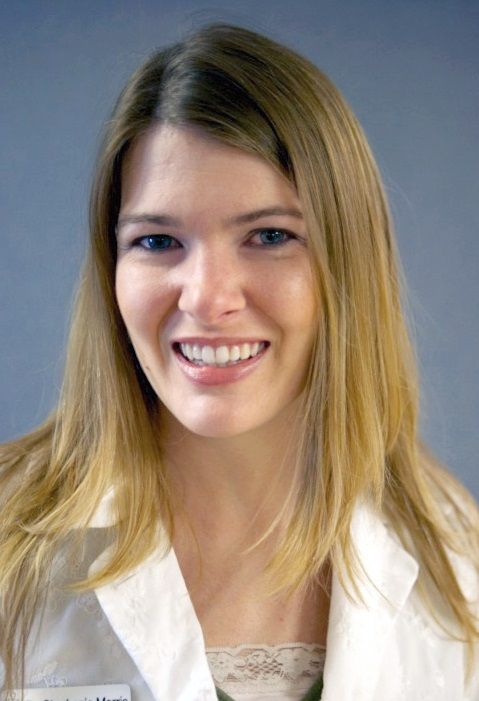 Dr. Stephanie Gildersleeve
As a child, I remember imagining myself as a veterinarian and would put on plays with my sister and cousins "caring" for the animals at the clinic we dreamed up. I told my family that I would become a veterinarian (among several other career choices, of course) while growing up and eventually followed that goal by heading off to Ross University School of Veterinary Medicine on St. Kitts Island. I then completed my clinical year at The Ohio State University.
Before and during vet school, I knew I wanted to do more than just Western medicine. I always wondered if there were other treatment options than just giving pets medicine and if so, what were those forms of treatment? In school, I was introduced to acupuncture and found a place to become certified. I have since learned of several other alternative options which I hope to study in the future. Upon completion of my last rotation at OSU, I went to the Chi Institute of Traditional Chinese Veterinary Medicine in Florida to take and become certified in Veterinary Acupuncture. I am now a member of the American Holistic Veterinary Medical Association.
Also before school, I was very curious about the behavior of animals wondering why some seemed so shy, why some would try and bite and how could we make dogs and cats feel more comfortable coming in for check ups? Therefore, I tried to get as much experience with behavioral medicine as I could during my year at OSU and have continued to grow in this field to this day. I enjoy helping clients who have questions about why their pets do the things they do and will gladly offer a session to sit down and discuss these issues. Together, we will try to problem solve what we can do to help mend the human-animal bond so that each can live a happier life.
My first job was at Erie Animal Hospital in Erie, PA where I practiced for several years before coming closer to home to work here at Conneaut Creek Veterinary Clinic. Though I'll miss the people and pets I got to know, I am excited to bring Western, Eastern and behavioral medicine to the community of Conneaut and meet new people and pets! Please feel free to bring your pet's most favorite treat or toy when stopping by as we want you and your furry friend to feel comfortable while visiting!
Away from work, I enjoy attending church with my husband Denver, traveling to new and exciting places and seeing or performing in theater productions.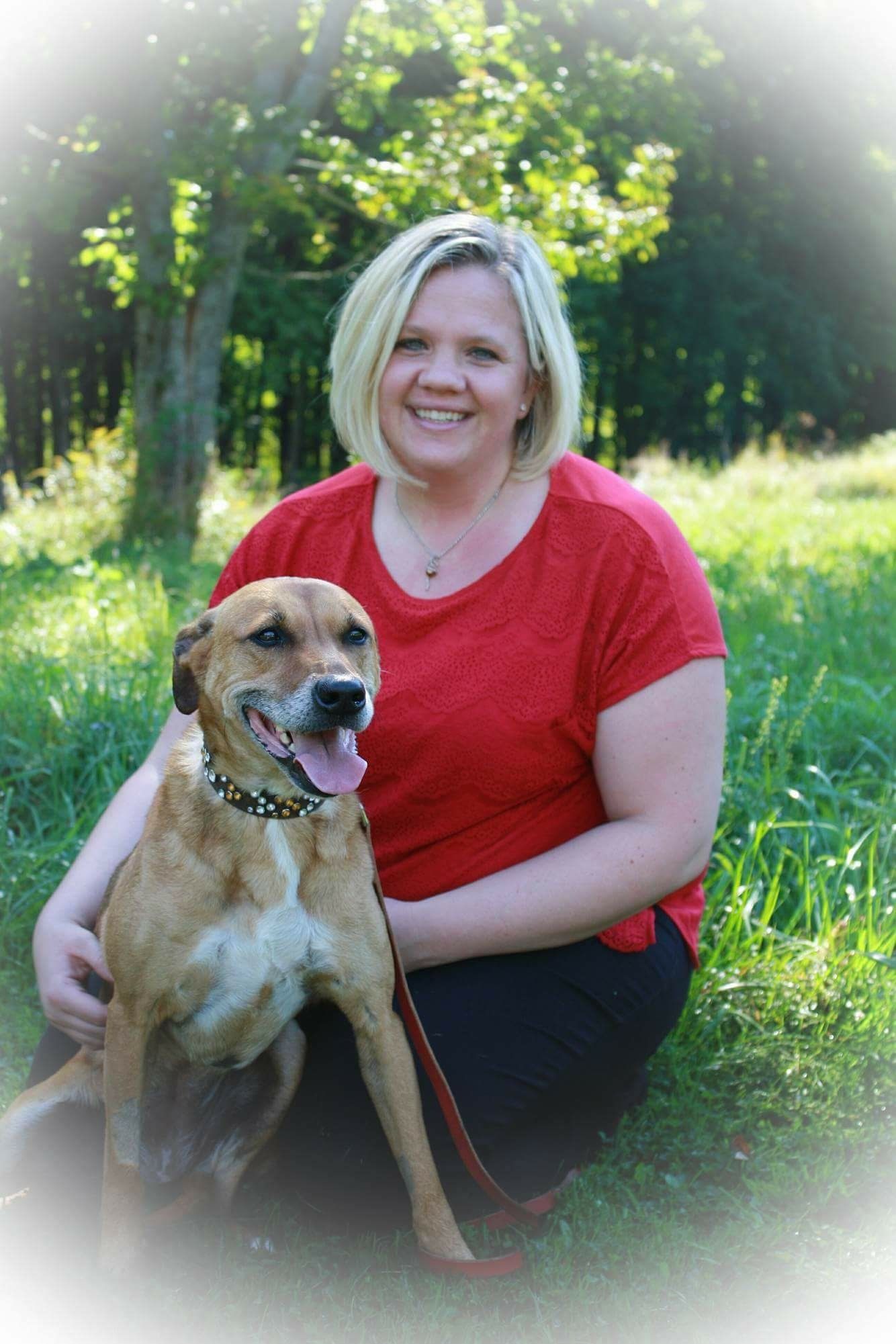 Dr. Marla Hall
Hi, I am Dr. Hall and I have been practicing veterinary medicine for 7 years now. Being a veterinarian has been a lifelong goal for me as I grew up on our family horse farm in rural Pennsylvania and participated in 4-H, Morgan Youth and showed and rode Morgans competitively which gave me many interactions with veterinarians while attending to sick or wounded animals. After graduating high school I attended Lake Erie College where I obtained my BS in biology while playing basketball and riding on the IHSA team. My next journey after Lake Erie was most exciting when I traveled down to live on the island of St Kitts and attend vet school at Ross University for 3 years. After returning to the states I completed my clinical year at Oklahoma State before returning locally to Akron, Ohio to practice veterinary medicine.
After being gone from the area for 10 years of schooling, I learned the importance of real friendship and family after I returned home. I have a family of seven, two daughters, Anjolene (3 yrs old) and Emma (8 months), my husband, Adam and our three rescue dogs. "Mia" is a 10 year old "Coconut Retriever" who was born under my roommate's bed in vet school in St. Kitts. "Stella" is a 4 year old Pit Bull whose mother died giving birth and she was close to death when her owners could no longer care for her. "Dutch" is a 1 year old American Bull-Pit mix that came from the streets of downtown Cleveland.
Veterinary medicine has given me a passion for nutrition, preventative care and blending therapeutic essential oils with modern medicine to bring my patients the best in overall health care. Being able to utilize essential oils on myself, my family and my pets has allowed me the chance to broaden my knowledge and experience and pass that knowledge along to my clients. I love the challenge of solving difficult or complex cases to help those without a "voice" to be heard.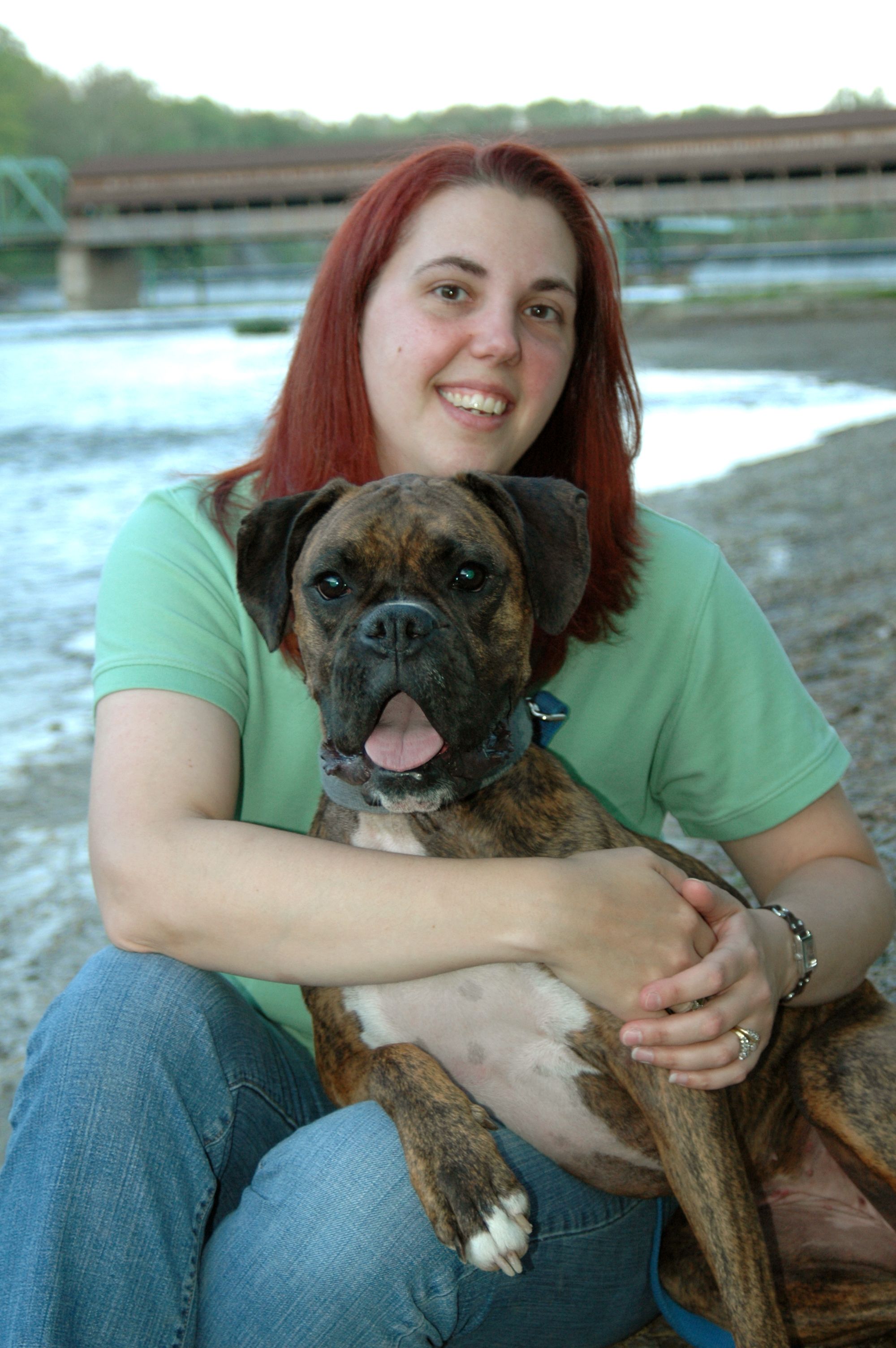 Amy Thompson
Howdy, I'm Amy and I have been at the Geneva Vet Clinic for the past 5 years and before that worked at our sister clinic, Country Doctor. I do a little of everything around the clinic from vet assistant, office management, marketing and keeping our social media and website up on the latest!
My hubby, Justin, and I have an amazing little girl, Ashlyn, who is eight going on fourteen! We also have two fantastic dogs - Micah (Boxer) and Sherman (Frenchton), as well as a bearded dragon - Inigo, a Russian tortoise - Boris, a mini donkey - Hollie, a mini horse - Flash, a pot bellied pig - Jasmine, 2 gerbils, 3 hermit crabs, 3 ducks, 6 bantam chickens, a parakeet - Nella, and a 30 gallon fish tank of tropical fish.
We would love for you to stop in with your furry family members for a visit or to simply say "hi", and remember you can always send us a cute picture of your fur kid to our Facebook page too!
Jessica Janson
My name is Jessica and I am a registered veterinary technician. I have been working in clinics as a tech for a little over 2 years and an assistant before that. I have always been an animal lover, I was the child in the neighborhood who would bring home stray pets and ask to keep them. I would even attempt to rescue injured wild animals to bring them to the vet for help. We would always have an animal, or three, in the house with us. I turned my passion into a career after graduating from the Veterinary Technician Program at Cuyahoga County Community College.

I currently have two cats and have recently adopted a heavy pied cockatiel and will grow my family here soon, marrying my fiance, Michael, this coming fall. I can't wait to meet you and your furry family members!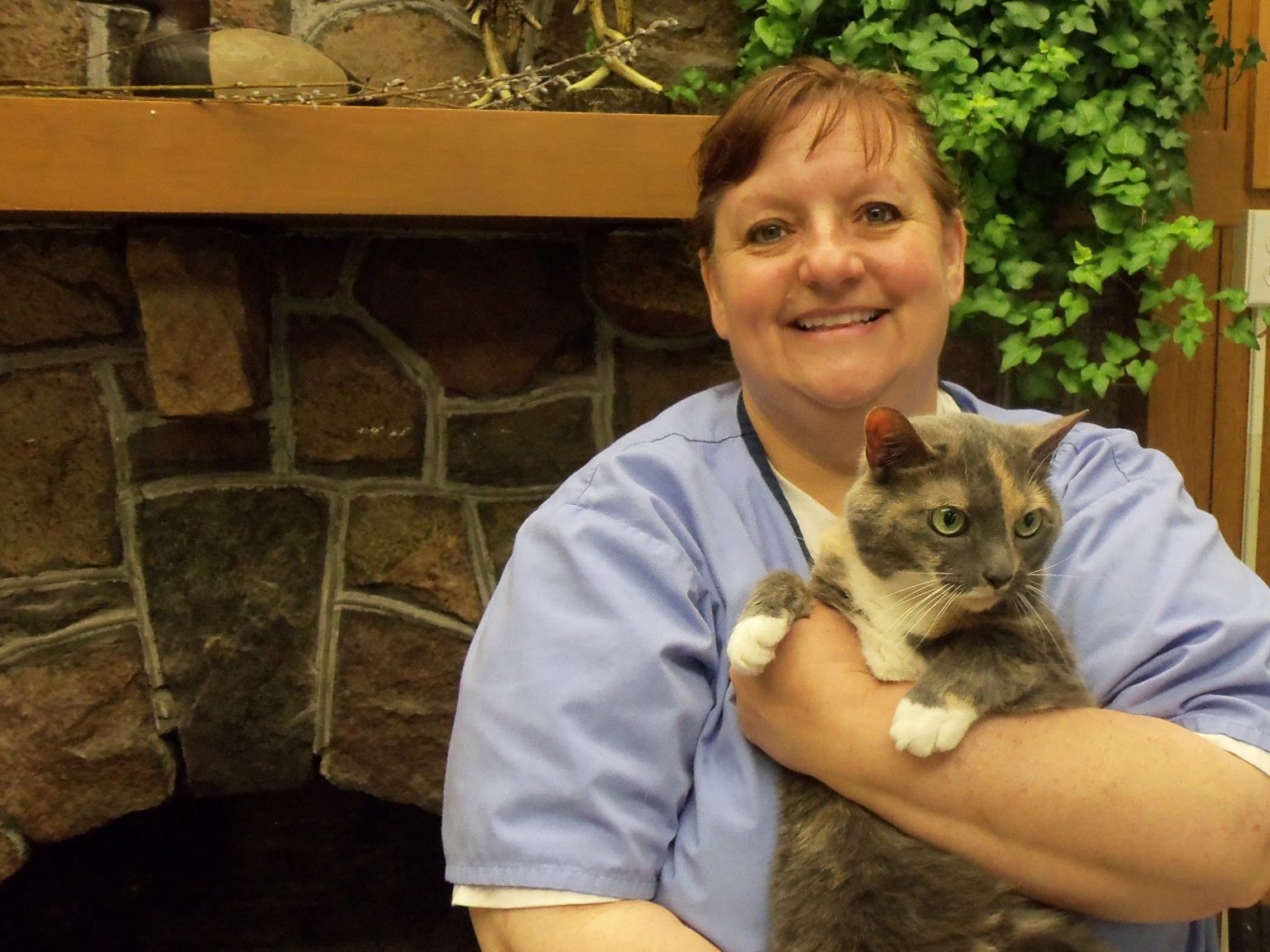 Deana Kelly
Hi, I'm Deana Kelly. I am a Registered Veterinary Technician, since 1987. I love working at The Geneva Veterinary Clinic and have split the past 6 years between here and Country Doctor. All the ladies here are a joy to work with, as well as sharing our love for animals together.
I have been married to my husband, Mickey, for 26 years this summer. We have one daughter, Meg who is a recent graduate of the Ohio State University with a major in Animal Science. We live on a small hobby farm in Sheffield Township. We own a team of Belgian Draft Horses (Chip, Ladd), 3 Miniature Horses (Gracie, Rayne, Penny), 1 Donkey (Weezer), and lots of barn kitties. In the house we have our Dachshund (Cora), my daughter's Dachshund (Heidi) and anywhere between 8-10 cats at any given time; most of which I had to hand raise for one reason or another. All my animals have given me such joy and have taught me many life lessons.
In my free time, I enjoy cooking, crocheting, and driving my Draft Horses and Minis.
*pictured with me is Molly, one of my house kitties.
Danie Majetich
Coming soon
Chrissy Hehr
Hello, my name is Chrissy. I am the receptionist here at Geneva Veterinary Clinic. When you call in I'll most likely be the first person you talk to and I can't wait to help you and your pet with whatever you need. I am newer to the veterinary field and am always learning and growing my knowledge base with every pet that comes through the clinic doors. I look forward to taling with you, meeting your four-legged family memebers and answering your questions. For as long as I can remember my family and I have always had an extended fur family. I currently have two cats, Nipper and Gus, I love my boys very much. In my picture with me is Nipper.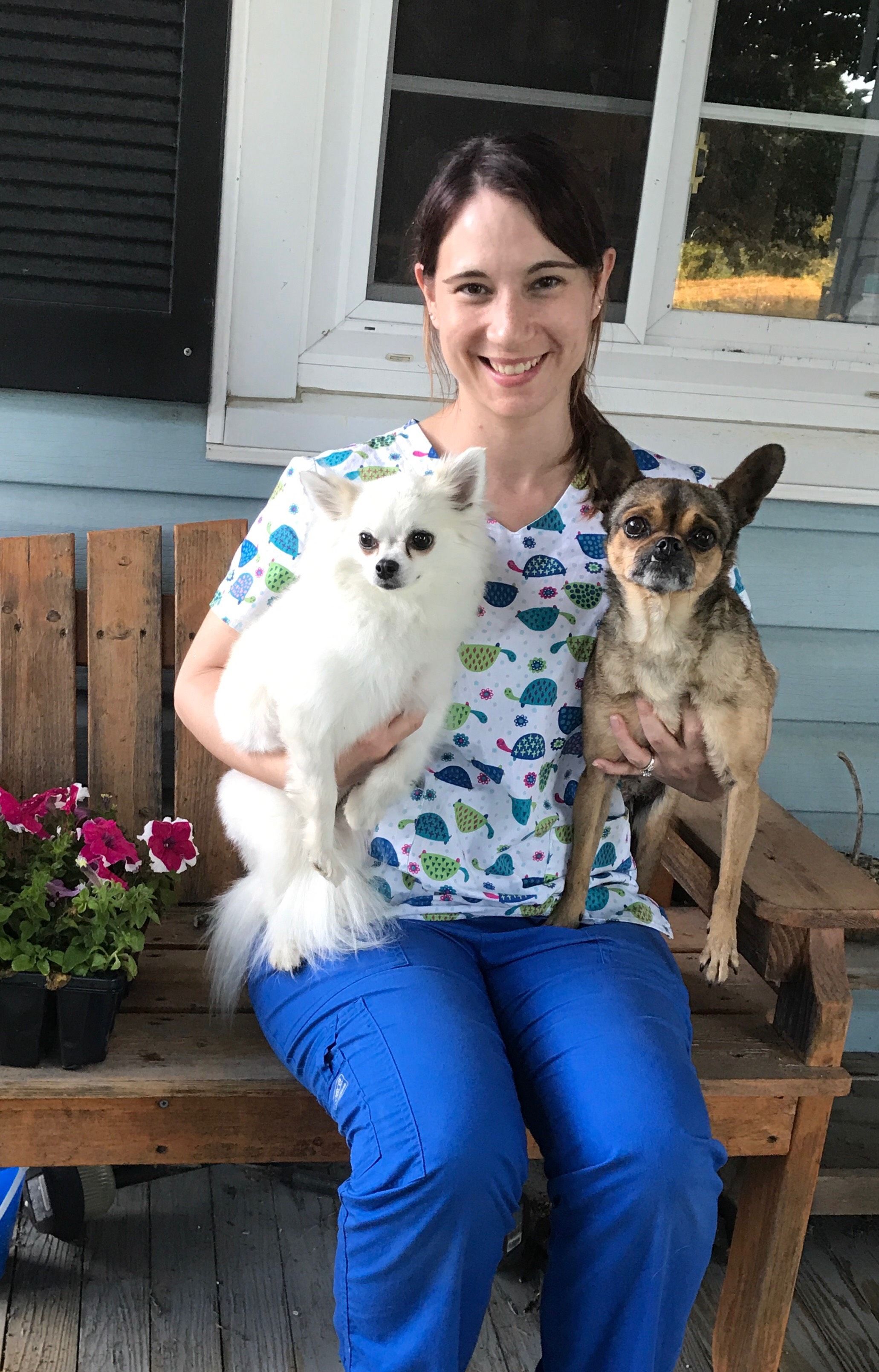 Amanda Lawson
Hi, I'm Amanda and I've been a Veterinary Assistant here at Geneva Veterinary Clinic since August of 2015. I'm originally from New Hampshire but most recently Hawaii, where my husband, Neil, was stationed in the military for three years. We moved to Geneva in May of 2015 to be with my beautiful stepdaughter, Amelia.
I currently have three dogs; a 12 year old Pug/Chihuahua mix named Bailey, and a two year old Chihuahua/Pomeranian mix named Sophie and a Border Collie Mix named Nyla. I also have four tortoises; Bubba, a Redfoot Tortoise, Leo, a Russian Tortoise, Tank, a Sulcata Tortoise and a Leopard Tortoise named Mikey.
I have been working in the veterinary field for about 4 years now and I absolutely love it. I'm currently enrolled in Penn Foster's Veterinary Technician program and working towards getting my degree. I love working here at Geneva Vet, and the crew that I work with is amazing. It's been great getting to know our clients and their pets!
Cynthia Kelner
Cyndi has been with the clinic a short while now and brings her prior animal experiences to what she does for her patients each and every day. Cyndi has a golden retriever "child" named Maddie.
Bethany Stange
Coming soon.
Sheila Stevenson
Coming soon.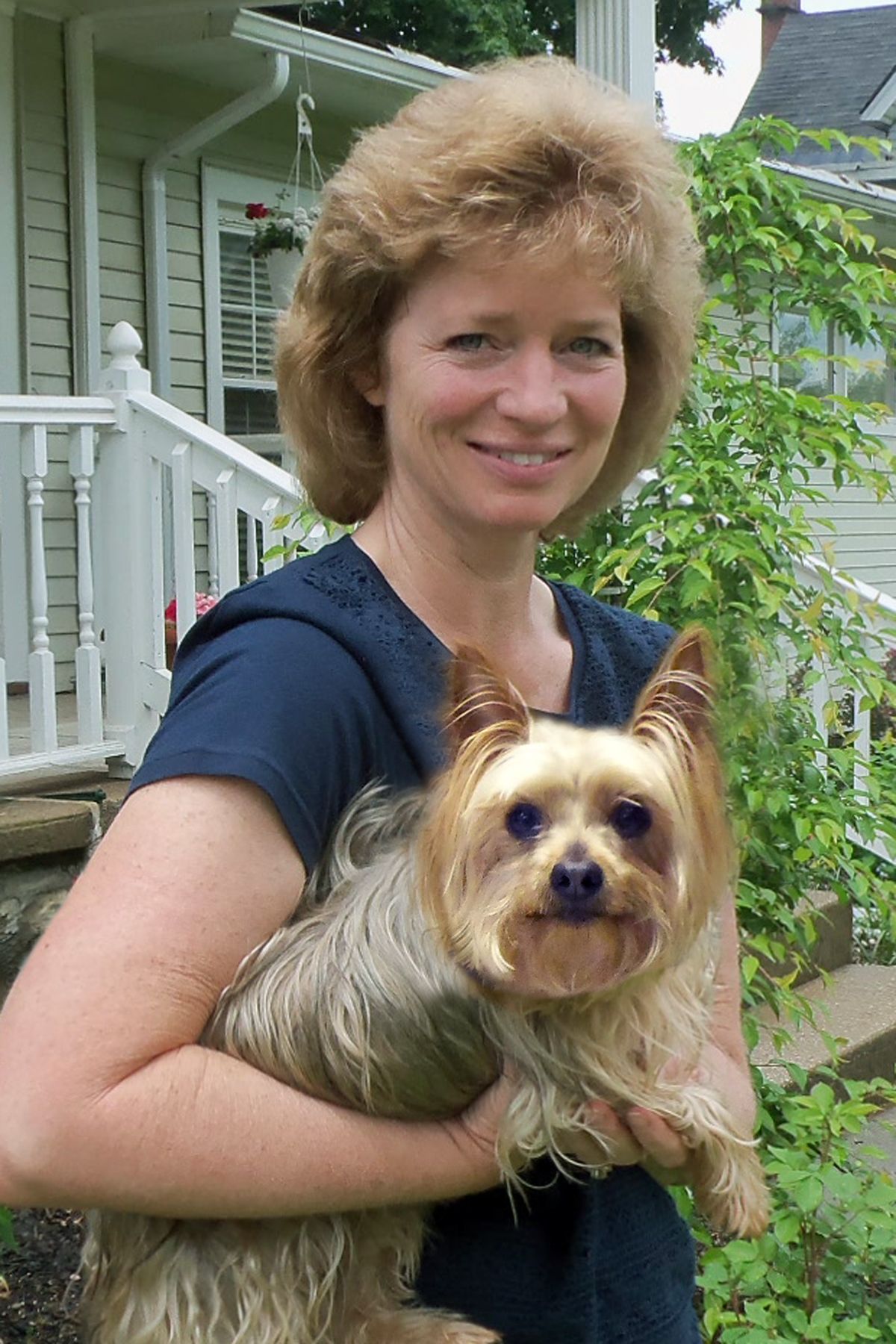 Tammy Curie
I'm Tammy and I have a lot of different duties at the clinic. I do all of the book keeping, inventory and even work the front desk when needed. I really enjoy meeting the clients and patients when they come in.
You probably noticed my last name is Curie, and yes I'm married to the doctor! If I haven't met you yet please stop in to visit and say hi.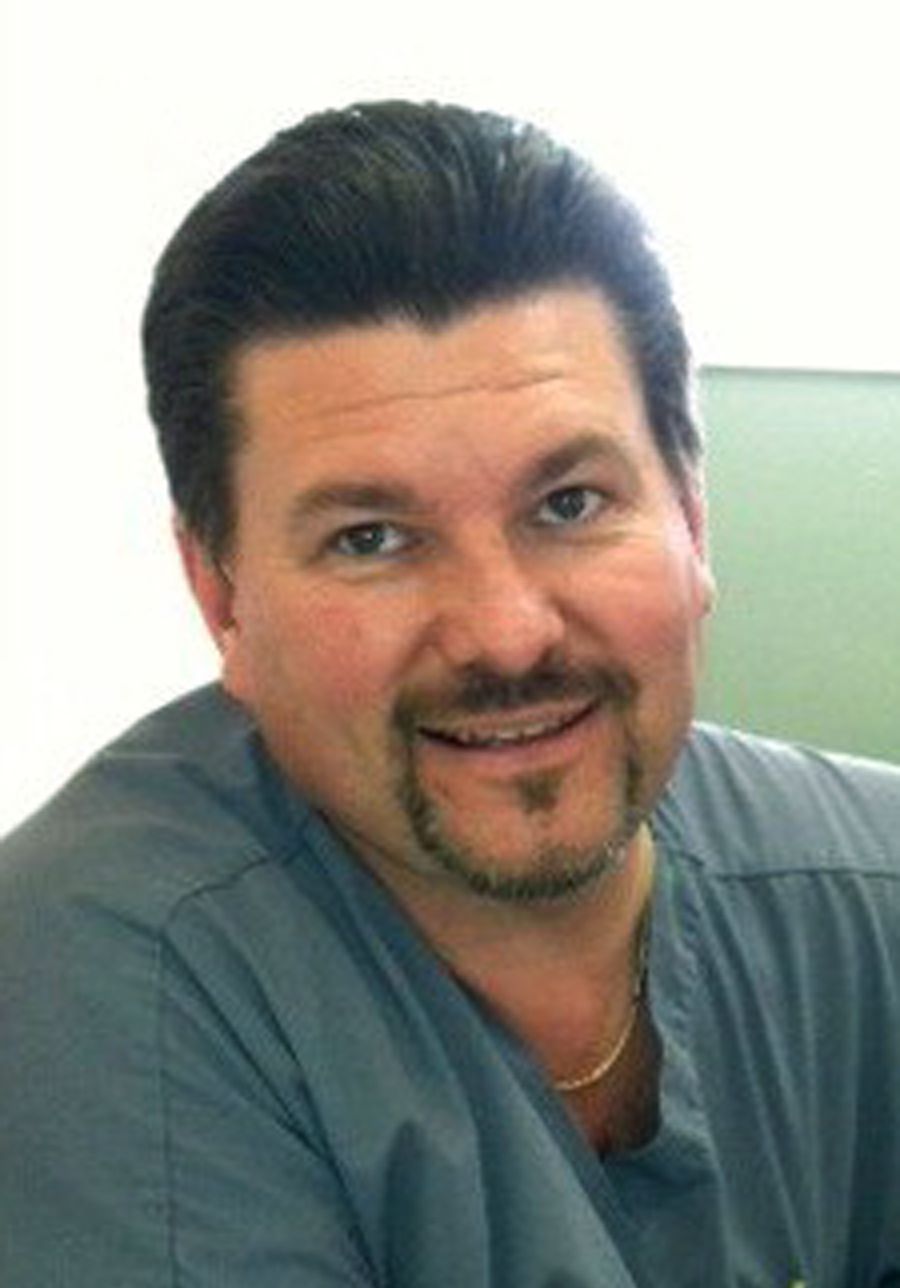 Dr. Michael Slawienski, DACVS
The Geneva Veterinary Clinic is pleased to have Dr. Slawienski with the Cleveland Associated Veterinary Specialists travel to our clinic for specialized surgeries. We are very fortunate to be able offer his services here at Geneva.
Dr. Slawienski is a native of Buffalo, New York. He received his Bachelor of Science degree in Animal Science from Cornell University and his Doctor of Veterinary Medicine degree from Iowa State University in 1992. He completed an internship in small animal medicine and surgery at West Los Angeles Animal Hospital and trained as a resident in veterinary surgeon at the prestigious Animal Medical Center in New York City. He became a Diplomate of the American College of Veterinary Surgeons in 1999.
Dr. Mike practiced at Associated Veterinary Specialists in St. Louis before moving to Ohio with his family in 2004. He has provided soft tissue, neurologic and orthopedic specialty surgeries for patients of veterinary hospitals in Northeast Ohio and surrounding areas since that time.
Dr. Mike is an avid home brewer and as a BJCP certified judge has judged beer competitions nationally and abroad. Dr. Mike enjoys spending time with his three young wonderful children and his wife. Dr. Slawienski has a sweet one-eyed pug named Boty and a very mischievous cat named Shadow.