Healthy Homemade Dog Treat Recipes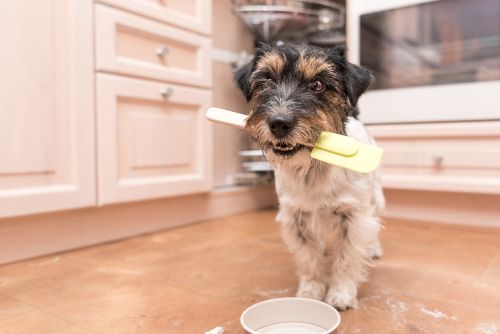 Although can buy plenty of different types of treats in pet and grocery stores around the country, it can be much more fun and satisfying to make your own. You also have the added benefit of knowing and understanding exactly what ingredients are going in to your canine pal's delicious goodies.

To help you get started, here are just a few of our favorite healthy homemade dog treat recipes


Frozen peanut butter yogurt dog treats
Nearly all dogs absolutely love the taste of peanut butter and it is a good source of healthy fats. These frozen peanut butter yogurt dog treats are perfect to cool your dog down on a hot day. Better still, they are super simple to make!


Ingredients
32oz vanilla yogurt

1 cup peanut butter


​​​​​​​Directions
Melt the peanut butter in the microwave being sure to use a microwavable bowl

Mix in the yoghurt, stirring so that the consistency is smooth

Spoon some of the mixture into cupcake cases

Place in the freezer and wait to cool

It really is that easy! When you are ready to serve, just pop one of its case and place it into a dish for your doggo!


Perfect pooch pumpkin bakes
Pumpkin is a super-healthy treat for canines since it contains lots of fiber, vitamin A, beta-carotene, iron and potassium. Most dogs love the sweet flavor, making these an ideal treat, especially at Halloween when fresh pumpkins are in abundance!


Ingredients
½ cup of pumpkin. Choose fresh wherever possible or if you need to use canned, select an unsweetened variety to help protect his teeth.

4 tbsp molasses

4 tbsp water

2 tbsp vegetable oil

2 cups of whole wheat flour

¼ tsp baking soda

¼ tsp baking powder

1 tsp cinnamon (optional)

Directions
Preheat your oven to 350 degrees

Mix the pumpkin, molasses, vegetable oil and water together in a large bowl

Add in the whole wheat flour, baking soda, baking powder and cinnamon and mix until the dough softens

Scoop out small spoonfuls of dough and roll into balls in your hands (wet hands work best for this to prevent the dough from sticking)

Place the balls onto lightly greased cookie sheets and flatten into disc shapes using a fork or back of a spoon

Bake for approximately 25 minutes until the dough is hardened
The great thing about these treats is that they can be popped into containers and taken out with you as well as served at home.


Doggy Donuts
Donuts are one of our favorite treats and now your dog can enjoy a version tailored specifically to be healthy and delicious for our canine pals.
​​​​​​​
Ingredients
​​​​
1 cup flour

1 cup oats

1/3 cup coconut oil

½ cup peanut butter

2 eggs

Greek yogurt (topping)

Bacon bits (topping)
Directions
Preheat your oven to 375 degrees and spray a donut pan with cooking spray

Take a large bowl and combine all of the ingredients (except the Greek yogurt and bacon bits as these are for the topping) mixing them well together either using a spoon or your hands until they form a dough

Take the dough and press it into the donut pan. Fill each donut cavity and press in tightly. Remember it won't rise so make sure it fills it completely

Bake in your pre-heated oven at 375 degrees for approximately 14 minutes or until cooked completely

Take your donuts out of the oven and allow them to cool. Then you can carefully remove the donuts

Decorate them by dipping each donut into the yogurt and then sprinkle the bacon bits over the top. Place them into the freezer for a few moments so that the yogurt hardens a little

Now your donuts are ready to serve. Serve them straight from the freezer or store them in the refrigerator until it is time for your pup to have a treat


​​​​​​​Banana Pupsicles
Another fantastic treat for those warm summer days, dogs love these banana pupsicles which are full of fiber and other important nutrients for keeping your furbaby healthy!

Ingredients
4 cups plain yogurt

1 large banana

4 tbsp peanut butter

Olive oil cooking spray

Small dog biscuits which will act as 'sticks' for the pupsicles


Directions
Blend the yogurt, banana and peanut butter in a blender

Place small cups or silicone molds in a rimmed baking pan and spray them with the cooking spray

Fill the cups half way with yogurt mixture then place on treat in each cup to serve as an edible 'stick' for your pupsicles

Transfer the pain to the freezer and freeze for 2-3 hours until set

Remove a pupsicle from the freezer and hold onto the stick while your dog enjoys his treat! You can feed him the 'stick' at the end!

​​​​​​​Want more ideas on healthy homemade dog treats? Don't hesitate to speak to our friendly and experienced veterinary team who will be happy to share their inspirational treat recipes with you!